Event Organiser adds a bookings page under your Events item in your WordPress admin menu. Following that link you'll be presented with a familiar-looking page which lists all your site's bookings in date order (most recent booking athe top at the top):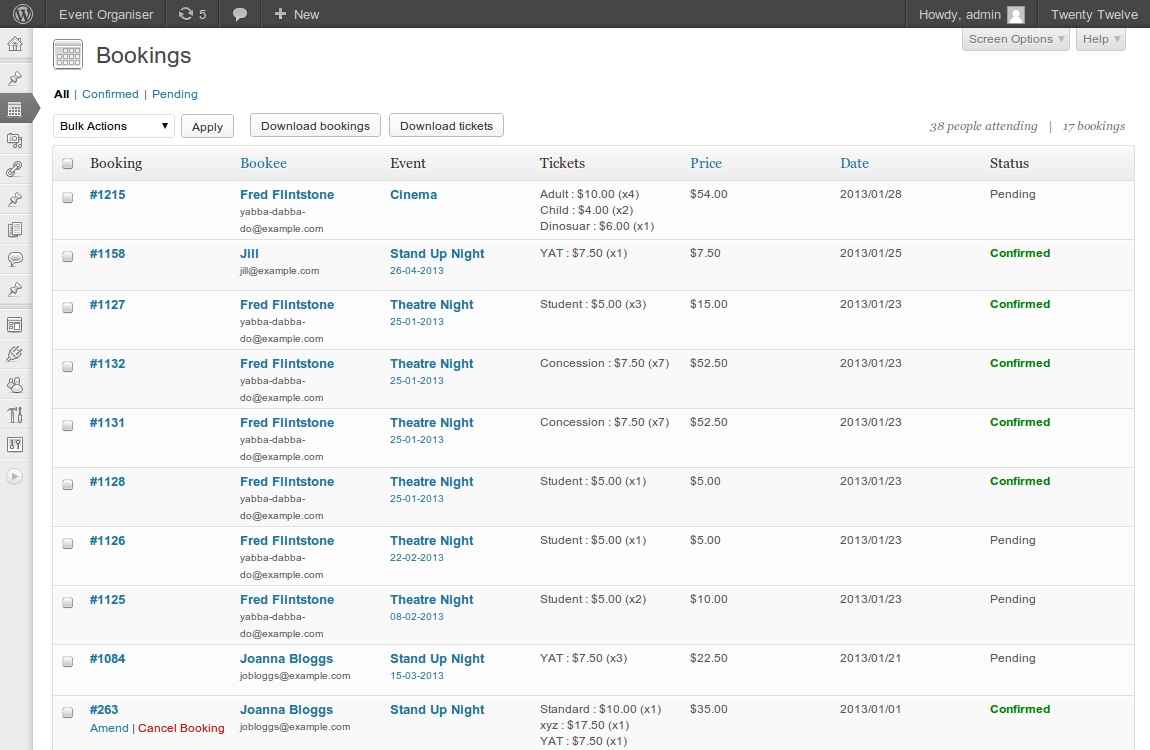 This table details about the booking:
Who made the booking
For which event (and date)
The ticket(s) they purchased
The total price of the booking (you can sort bookings by this)
The date the booking was made (you can sort bookings by this too)
The status of the booking
Manually confirming Bookings
If you need to manually confirm a booking (for example, a booking made with the 'offline' gateway) you can do so by checking the checkbox next the relevant booking(s), selecting Confirm bookings' in the bulk action drop-down at the top of the page and then clicking Apply.
You can also change the status of any booking from the booking's admin screen.
Filtering the booking admin screen
With lots of bookings that table may become a bit unwieldy – Event Organiser makes it much easier to manage your bookings by allowing you to quickly filter them.
By event: Clicking on a specific event name will show all bookings for that event
By event date: If you've got a recurrring event and are not booking by series, you can view bookings for a specific date by clicking that date in the table.
By user – To view bookings by a user you can, well you get the idea…
By status – This is different – simply use the links in the top left corner (where a 'post status' would normally live).
Search bookings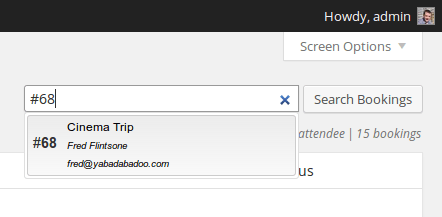 You can search for bookings by one of free criteria: booking reference number, bookees's e-mail or bookee's name. Which criteria is used depends on the search term:
To search by reference number enter a hash (#) followed by the rereference number.
To search by bookee's email include an @ in the search term
Otherwise the search is done by bookee name
Quick Stats
This page also tells you quick facts about the bookings. The top right you may see something like "10 people attending | 4 bookings". This tells you the number of bookings (both confirmed and pending) that are being viewed. So when filtering by an event, you can quickly determine the number of bookings.
The people attending tells you the total number of tickets in confirmed bookings of the bookings viewed.
1-Click Tickets and Bookings Download
From the bookings admin page its incredibly easy to download all of your bookings, or all of the tickets included in those bookings. Simply click the appropriate button at the top of the bookings table.
The download includes all bookings currently being viewed (including bookings on other 'pages') – so to download all bookings a user has made, simply filter by that user and click download.
When downloading bookings you can optionally select which custom booking fields to include the export. See the Exporting booking data page for more details.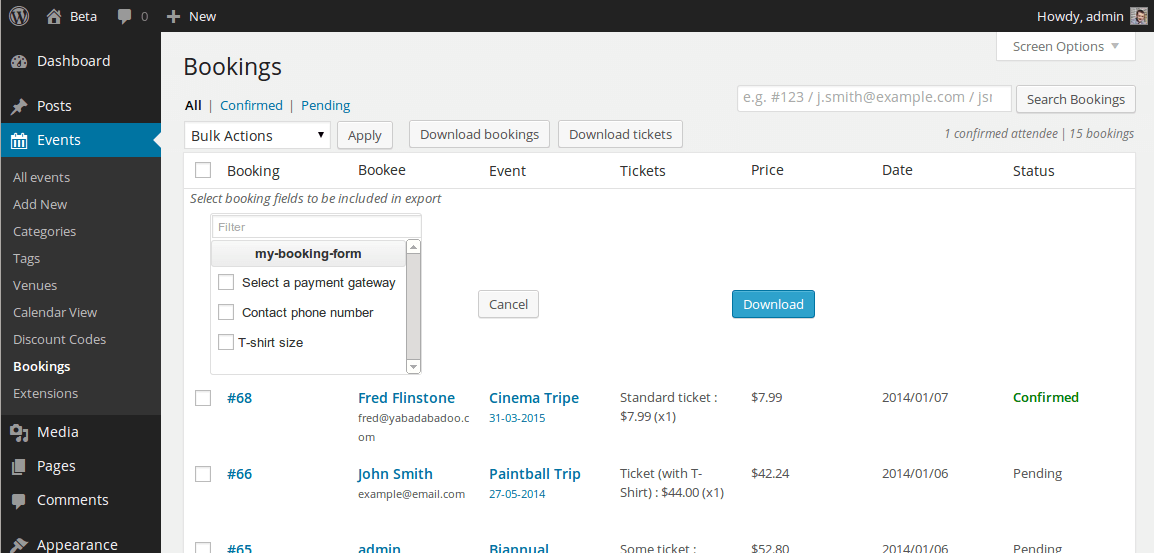 E-mail Bookees
Need to e-mail your attendees? This is quick and easy from the admin page – simply select the relevant bookings, and using the 'Bulk Actions' drop-down, select Email Bookees.
Here you can enter your message and send. You can also use 'tags' to insert booking-specific date, such as names, event title, reference number etc. For more information, see this page on E-mailing bookees.
Amending Your Bookings
To amend or view booking in more detail, click 'View' to take you to that booking's admin page.

On a bookings admin page you can view and edit the booking's details.
Calendar View Booking Management
You can also view bookings from the Calendar View. From your WordPress admin go to Events > Calendar View. Here you are presented with the usual admin calendar interface that allows you to filter events, and navigate between dates and views ( month, week, or day views).
Clicking on an event, as in the free version, brings up a dialog with information about that event. Event Organiser Pro adds a brief booking summary. Included in this summary is the total number of confirmed attendees, as well the maximum number of people that can attend.
If there are any confirmed attendees, two 'quick action' links appear:
'View bookings' – View all (confirmed & pending) bookings for this event
'Export bookings' – Triggers a CSV download of all (confirmed & pending) bookings for this event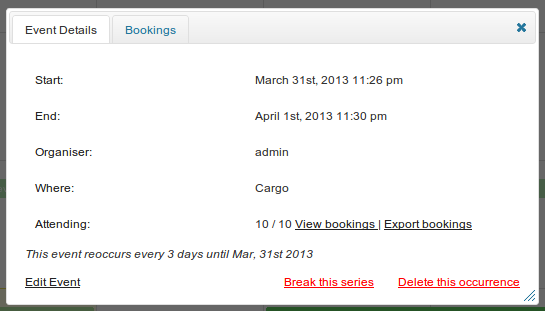 Event Organiser also adds 'bookings' tab which lists all bookings made for this event and their details along with a booking summary.